Programming language: Java
License: Apache License 2.0
android-floatinglabel-widgets alternatives and similar packages
Based on the "Other Widget" category.
Alternatively, view android-floatinglabel-widgets alternatives based on common mentions on social networks and blogs.
Appwrite is an open source backend server that helps you build native iOS applications much faster with realtime APIs for authentication, databases, files storage, cloud functions and much more!
* Code Quality Rankings and insights are calculated and provided by Lumnify.
They vary from L1 to L5 with "L5" being the highest.
Do you think we are missing an alternative of android-floatinglabel-widgets or a related project?

Add another 'Other Widget' Package
README
Android Floating Label Widgets
A set of input widgets with a hint label that floats when input is not empty.
Demo
A demo of the widget is worth a thousand words. You can download it for free on Google Play.
We also have a small video showing it (just click the image below)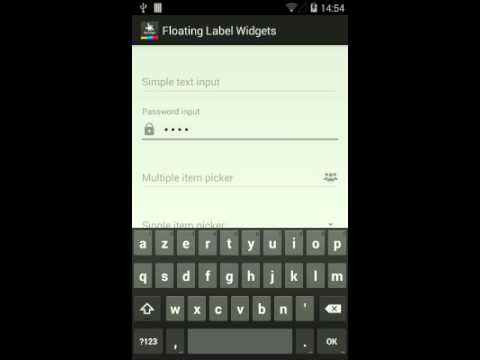 Included widgets
Simple EditText
AutoComplete TextView
Item picker (pick an item from a list in a dialog)
Instant picker (pick a date or a time from a dialog)
Item chooser (pick an item from another activity)
Usage
See the Wiki pages for the documentation, changelog, samples, etc.
About Vincent & MarvinLabs
I am a freelance developer located in Biarritz, France. You can have a look at my website to get to know me a little better. If you want to follow me, here are some links:
MarvinLabs is my digital studio specialised in native mobile applications and web sites. You can browse our website to get to know us a little better. If you want to get updates about our work, you can also:
Change log
See the wiki